"Come wander the vibrant streets of the red city,
then journey into the solitude of the stone desert."
This eight-day, seven-night retreat begins by taking us to one of Morocco's most frenetic cities: Marrakech. Together, we'll be taking in it's fascinating history, beautiful architecture, delicious street food, and colourful souks. From markets bustling with commerce, jugglers, snake-charmers, musicians, and medicine men, to gardens tucked away behind ornate gates with walls covered in beautiful tile, this city always has something new waiting to be experienced! Our time in Morocco will end with a journey into the desert of Agafay. The encampment that waits for us is a beautiful collection of fully equipped "glamping" tents. We'll end our retreat with silence and solitude, story-telling and games, and panoramic views of the stars.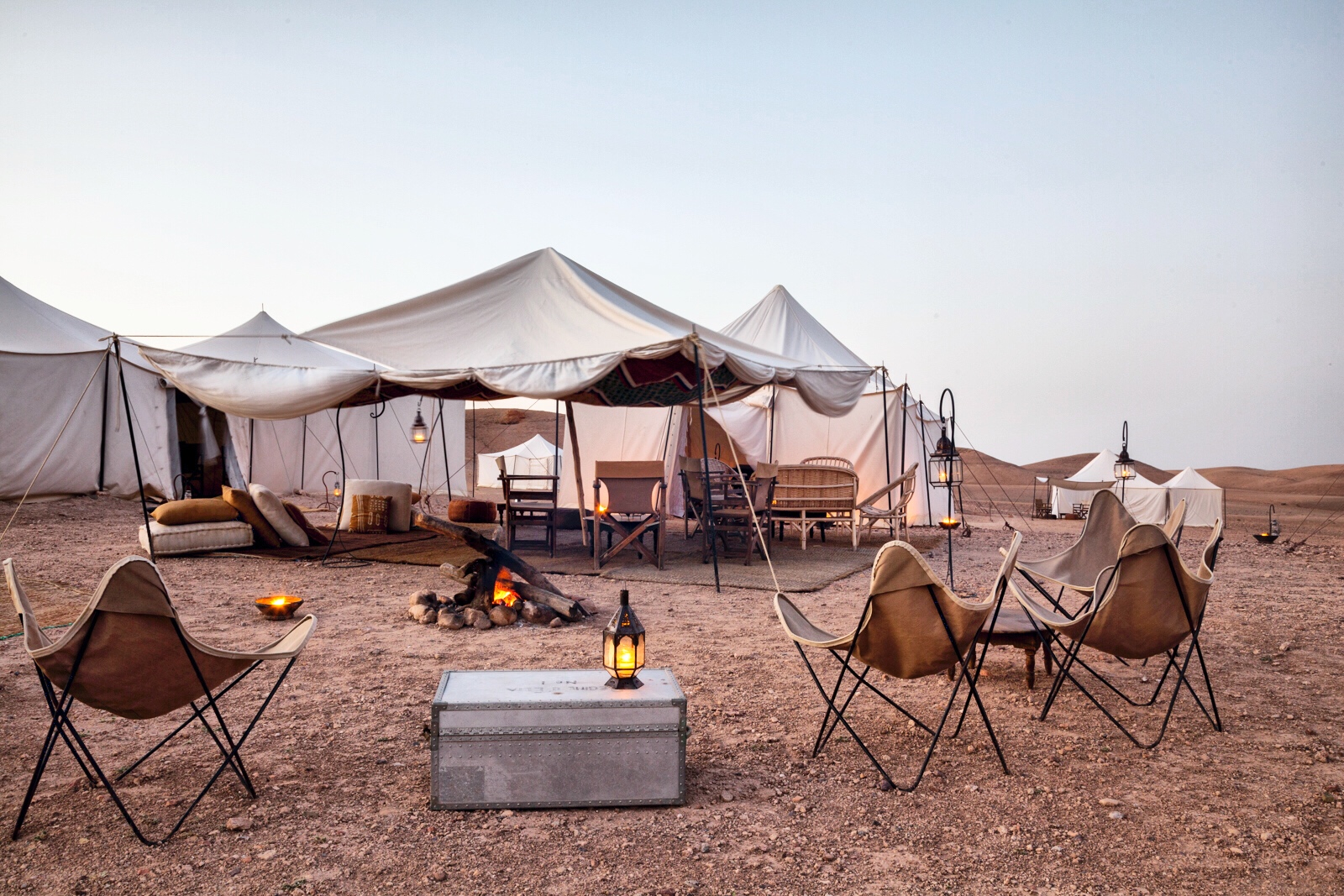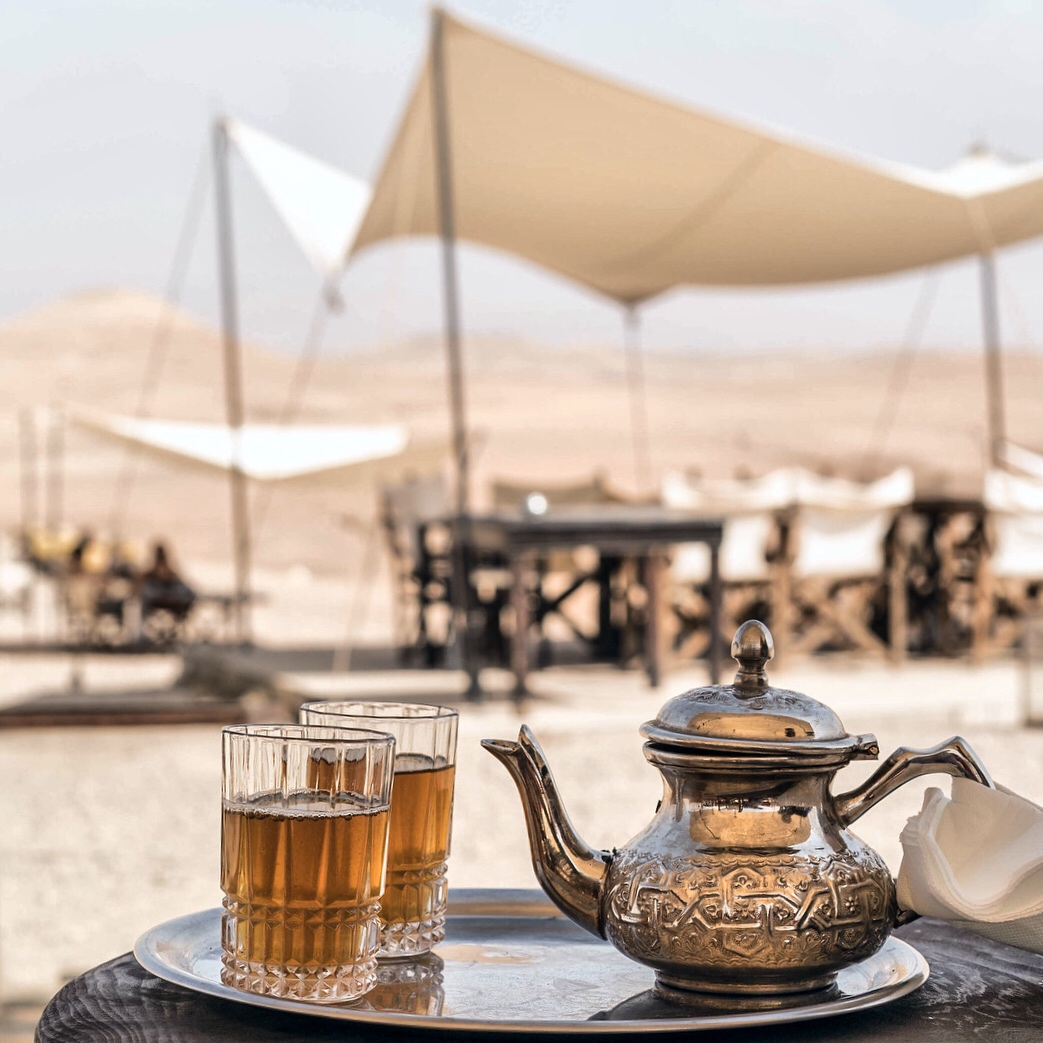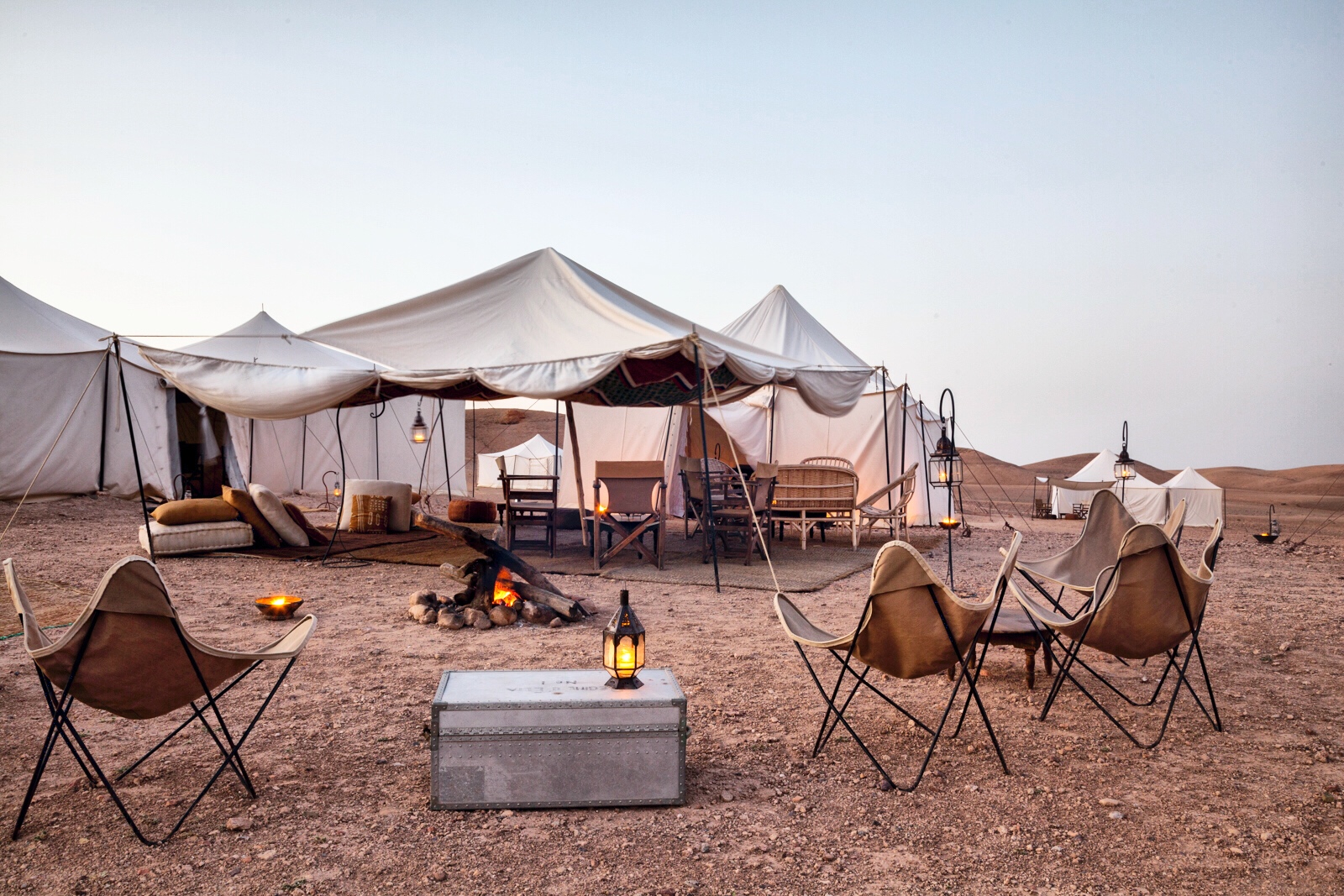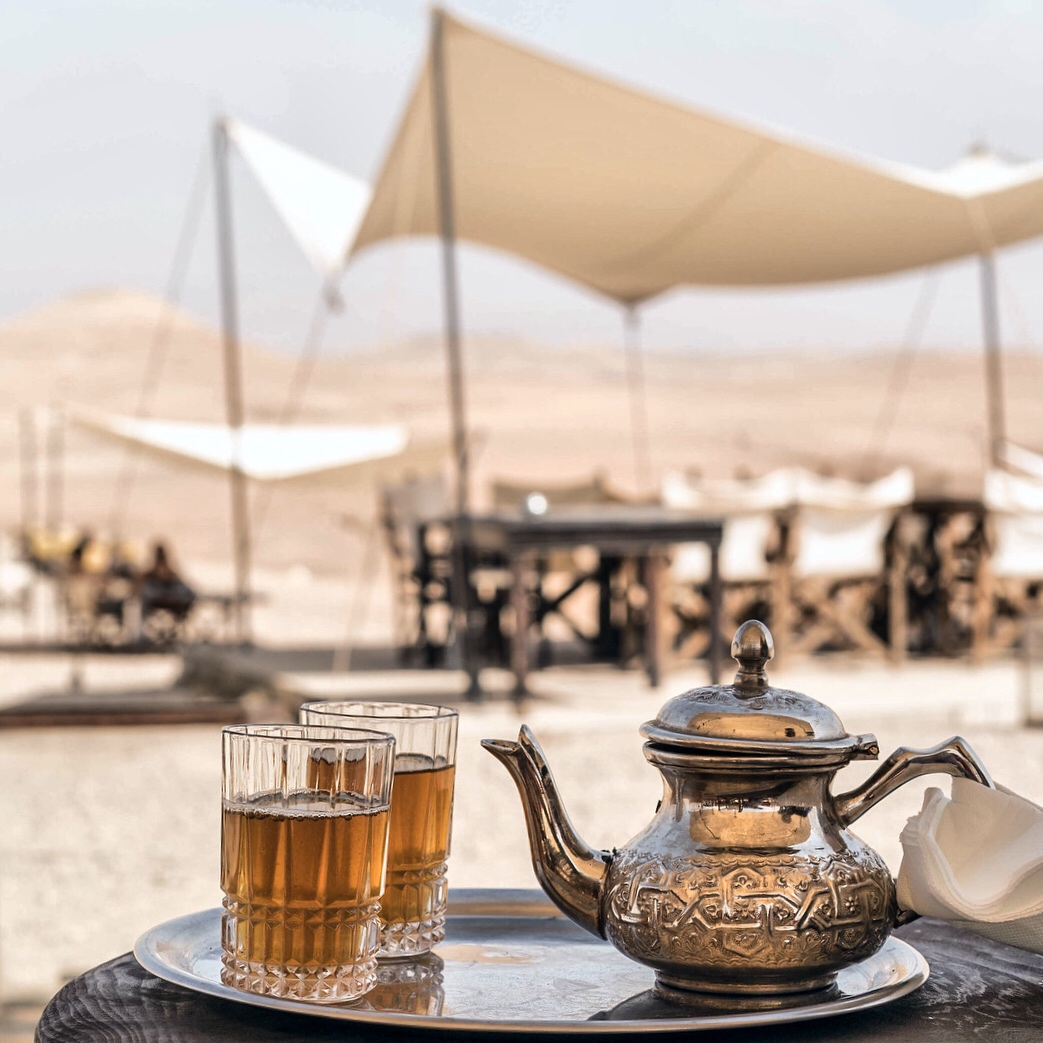 Vinyasa and Yin Yoga Retreat
Begin your day with a sunrise meditation, followed by an invigorating Vinyasa yoga class with breath-taking views of the city from the rooftop terrace of our private guesthouse. Practice will be tailored to meet the needs of the class, with options given for those seeking more intensity and for those seeking more balance. As the day heats up, you choose whether to relax poolside or to grab your camera and head out into the city to explore! Every evening, a grounding Yin yoga class will soothe and release tension from the body. All classes will focus on breath-work, alignment that works for your body, and some aspect of guided meditation. There will also be specialized workshops on two afternoons where we will further explore various aspects of the practice.
**Due to the boutique nature of our accommodation this retreat will be intimate, with time for hands on adjustments and questions during practice. Spots are going to fill up quickly, so reserve yours asap.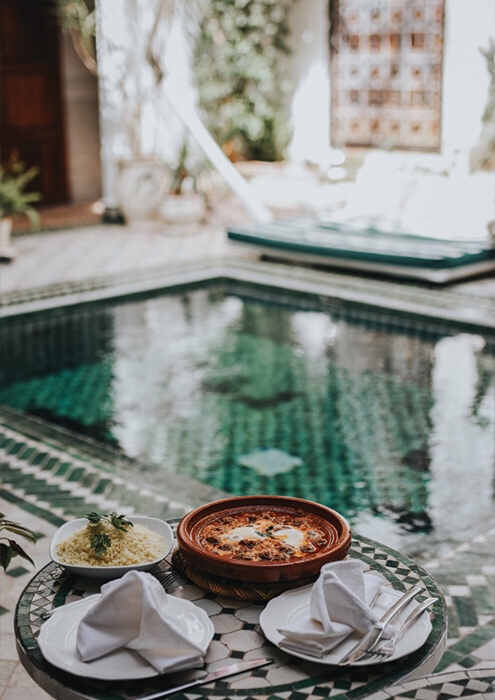 "Le Riad"
For the first five nights, stay in the centre of everything at a private guesthouse (or "riad"), booked off exclusively for our group, an oasis of calm and tranquility. A riad is a traditional Moroccan house, or palace, with an interior courtyard or garden. In this spectacular guesthouse, the courtyard includes a plunge pool for you to escape the African heat. Lounge by the pool, or hang out on the rooftop terrace, enjoying the spectacular view of the city and the snow-capped Atlas mountains.
Located in the heart of all the historical sites of the red city, you will have the freedom to discover Marrakech during the day, between the morning and evening practices. From numerous museums, extravagant architectural gems, opulent spas and hammams, to a dizzying labyrinth of stalls in the biggest souk in all of Morocco, you can be sure your days can be as filled or as relaxing as you want.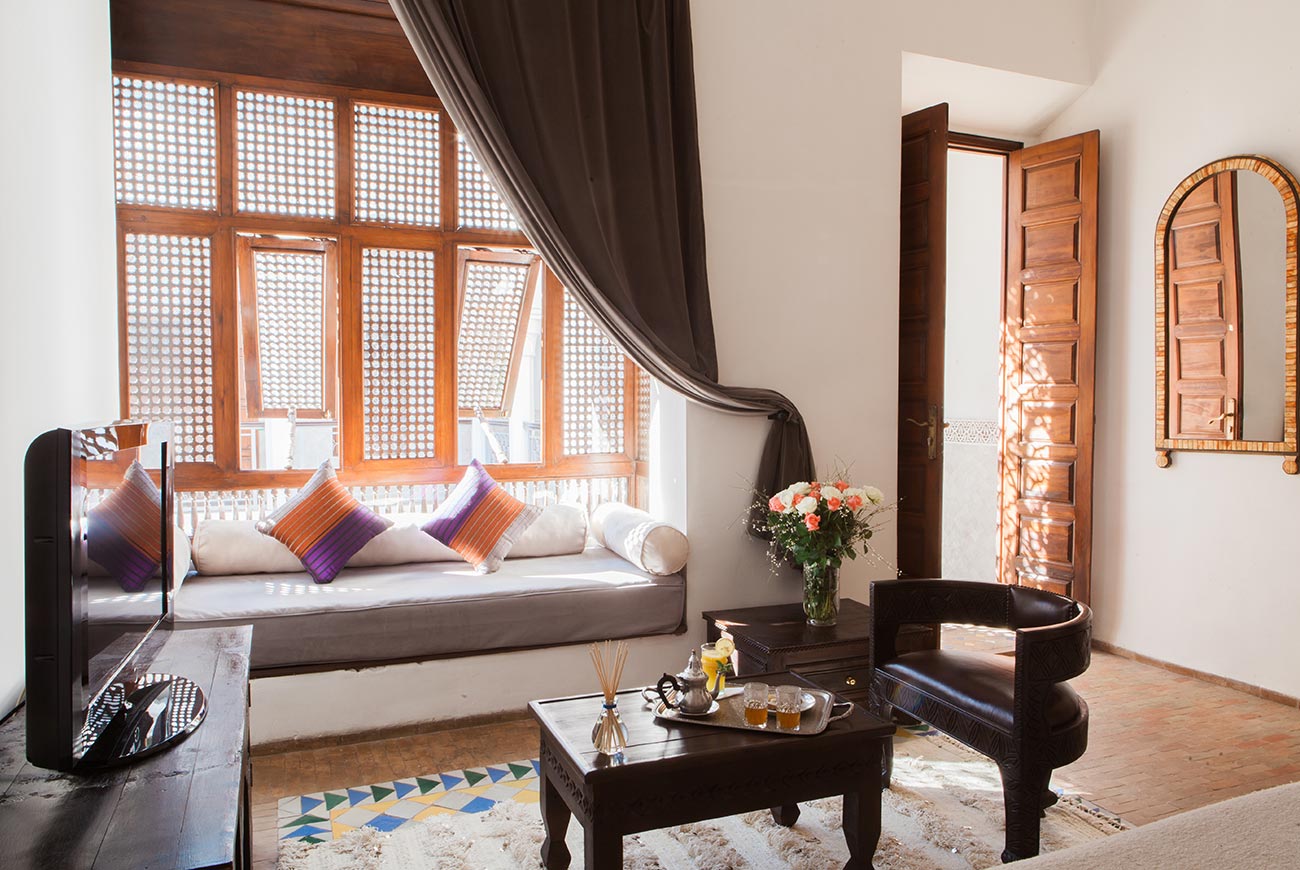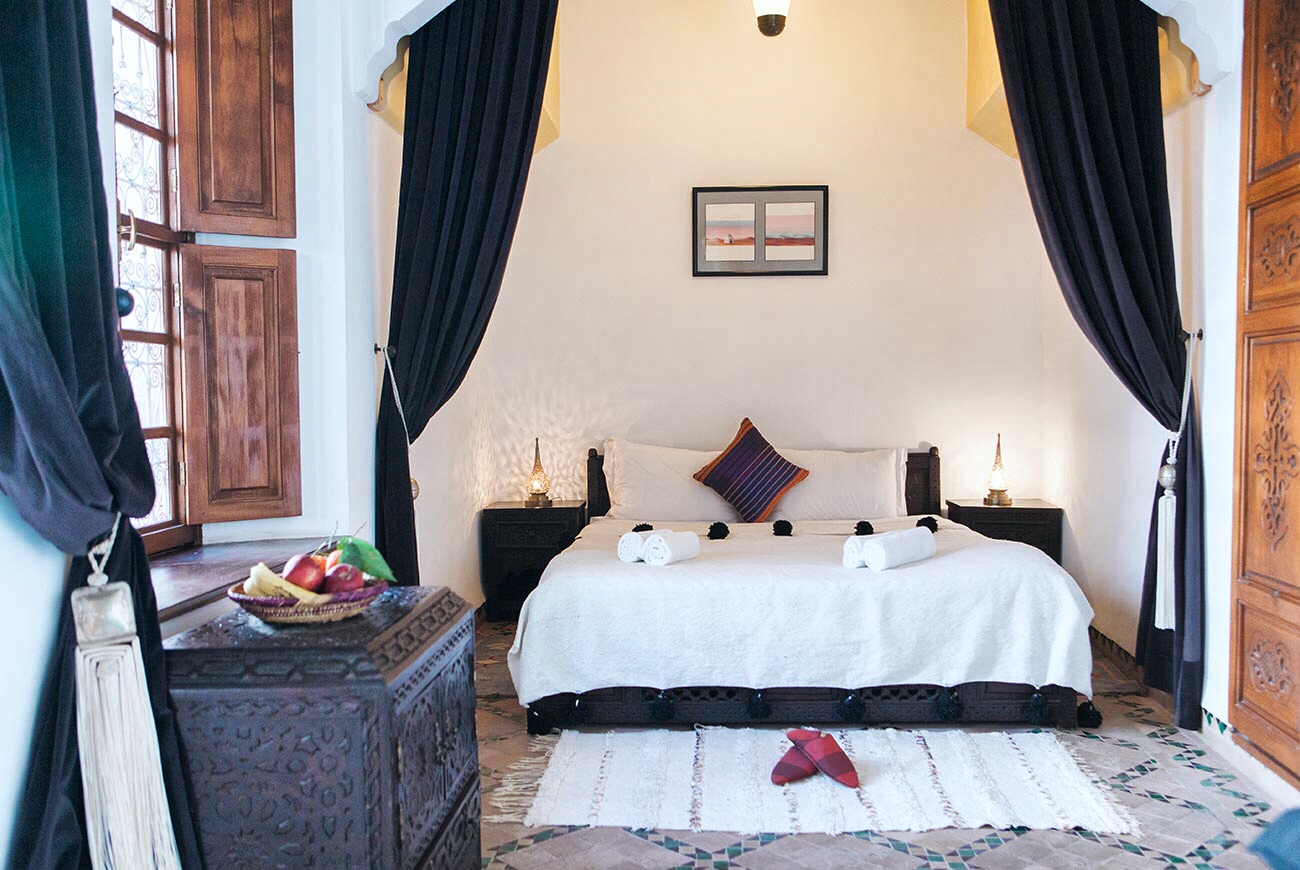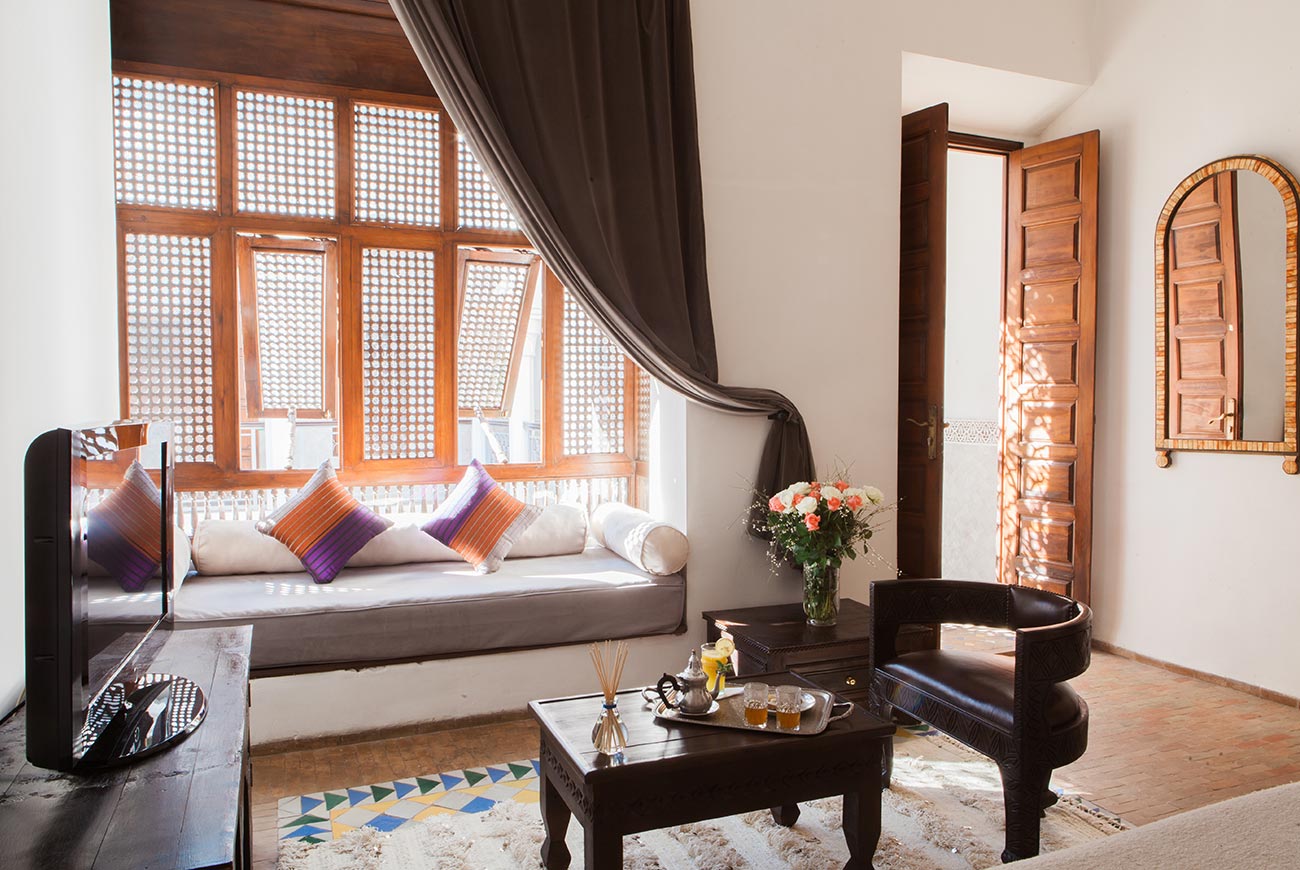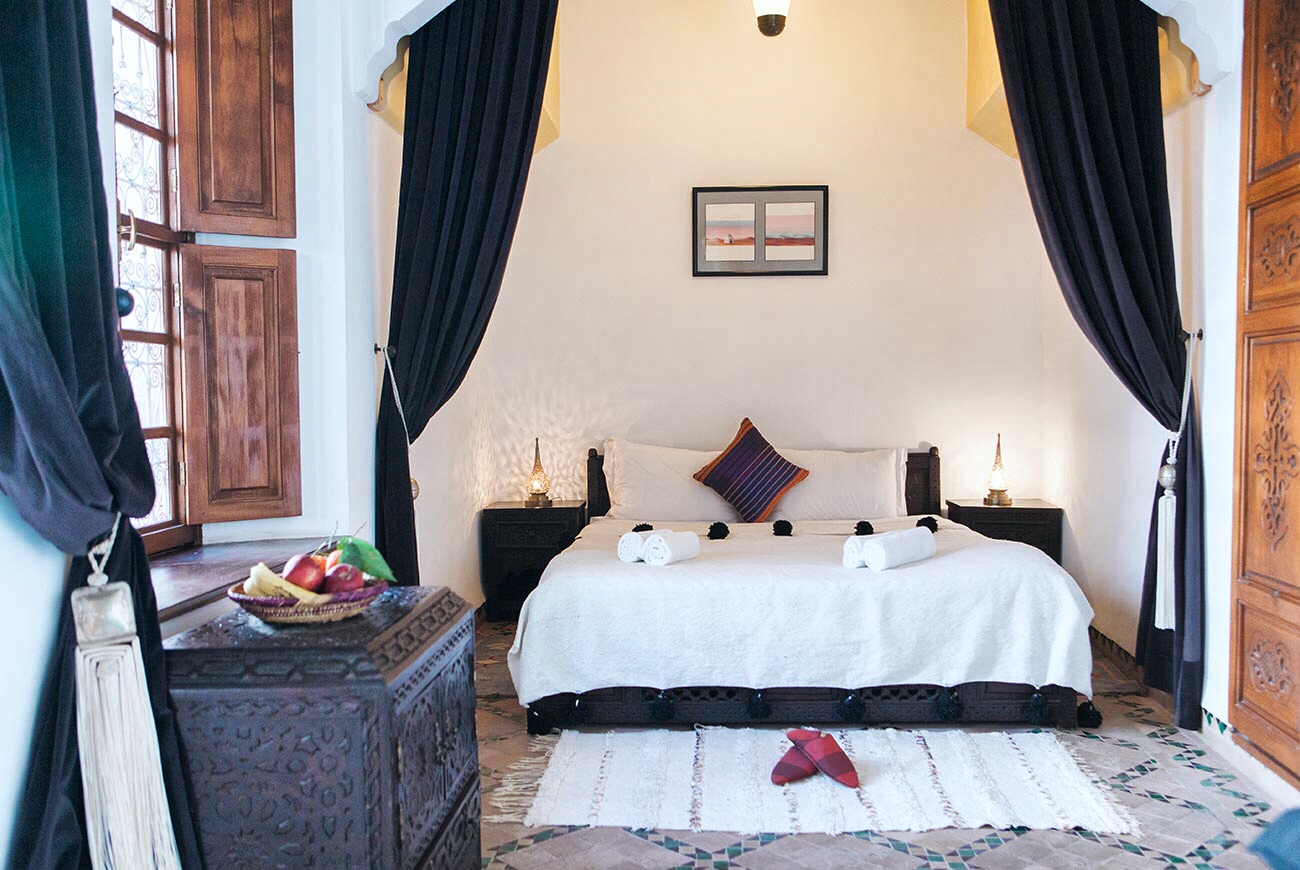 The Rooms
Each Moorish room at the riad is uniquely decorated and will transport you to a bygone era. An oasis, within an oasis. With a spacious lounge, and private bathroom in each room, it will draw you in and make you feel at home while we're in Marrakech.
The Food
Enjoy authentic Moroccan meals made especially for us at the riad by their private chef. Fruits will be available before practice, followed by a traditional Moroccan breakfast after practice every morning. Traditional Moroccan dishes will be served for dinner for 3 evenings, and lunch for 2 afternoons, giving you the opportunity to explore different culinary experiences in the city.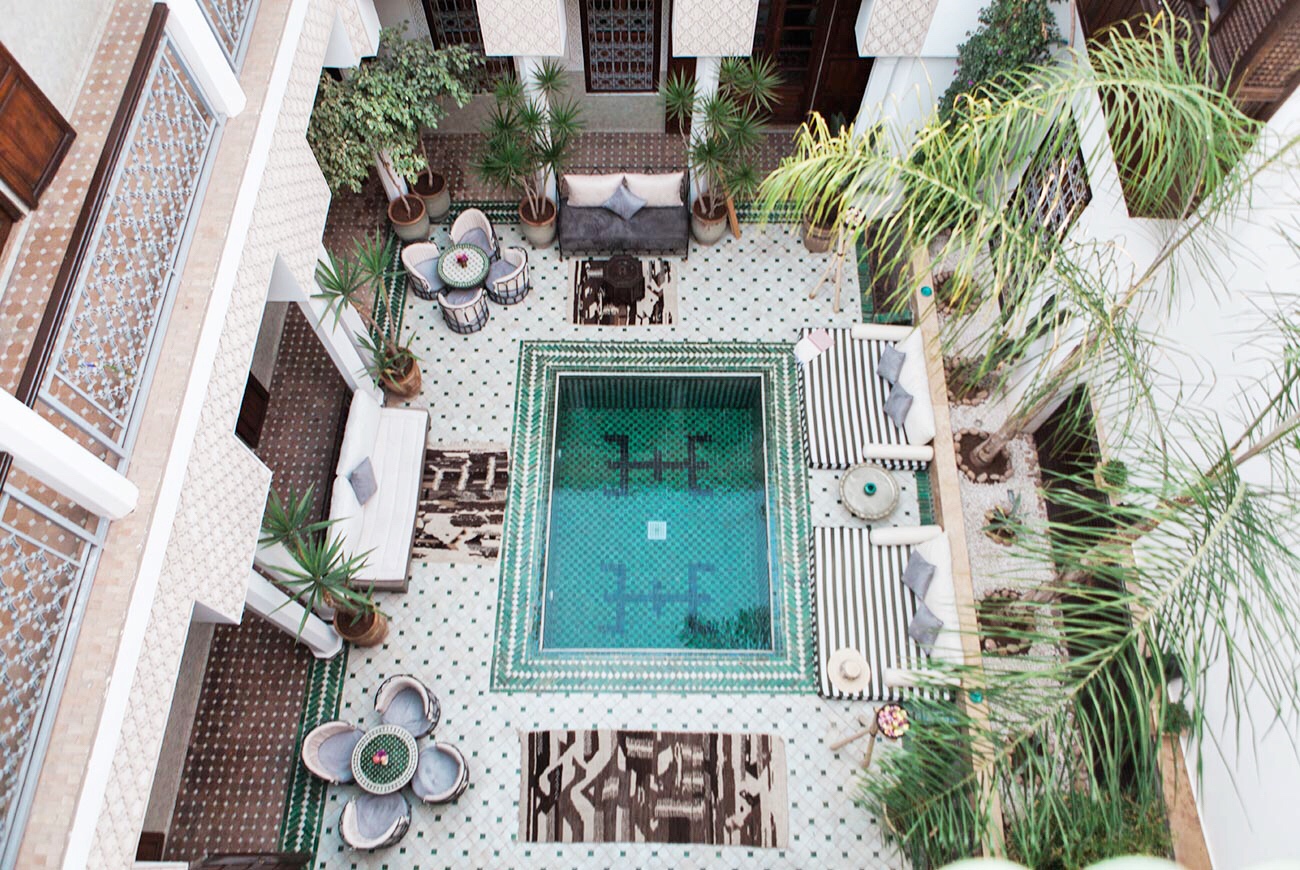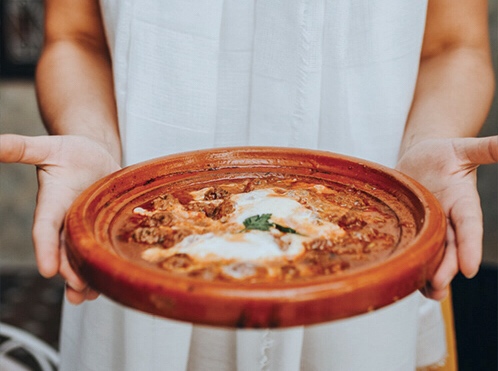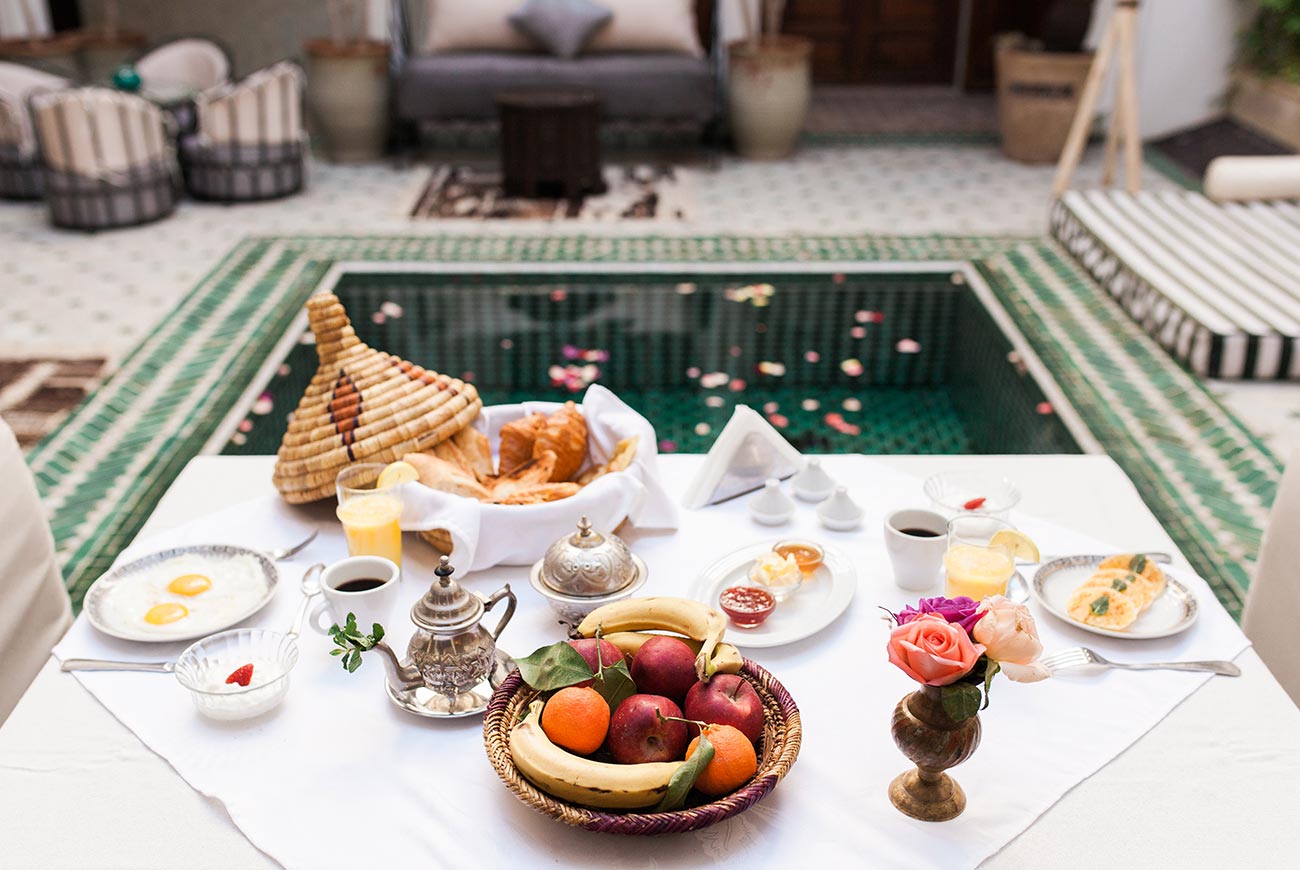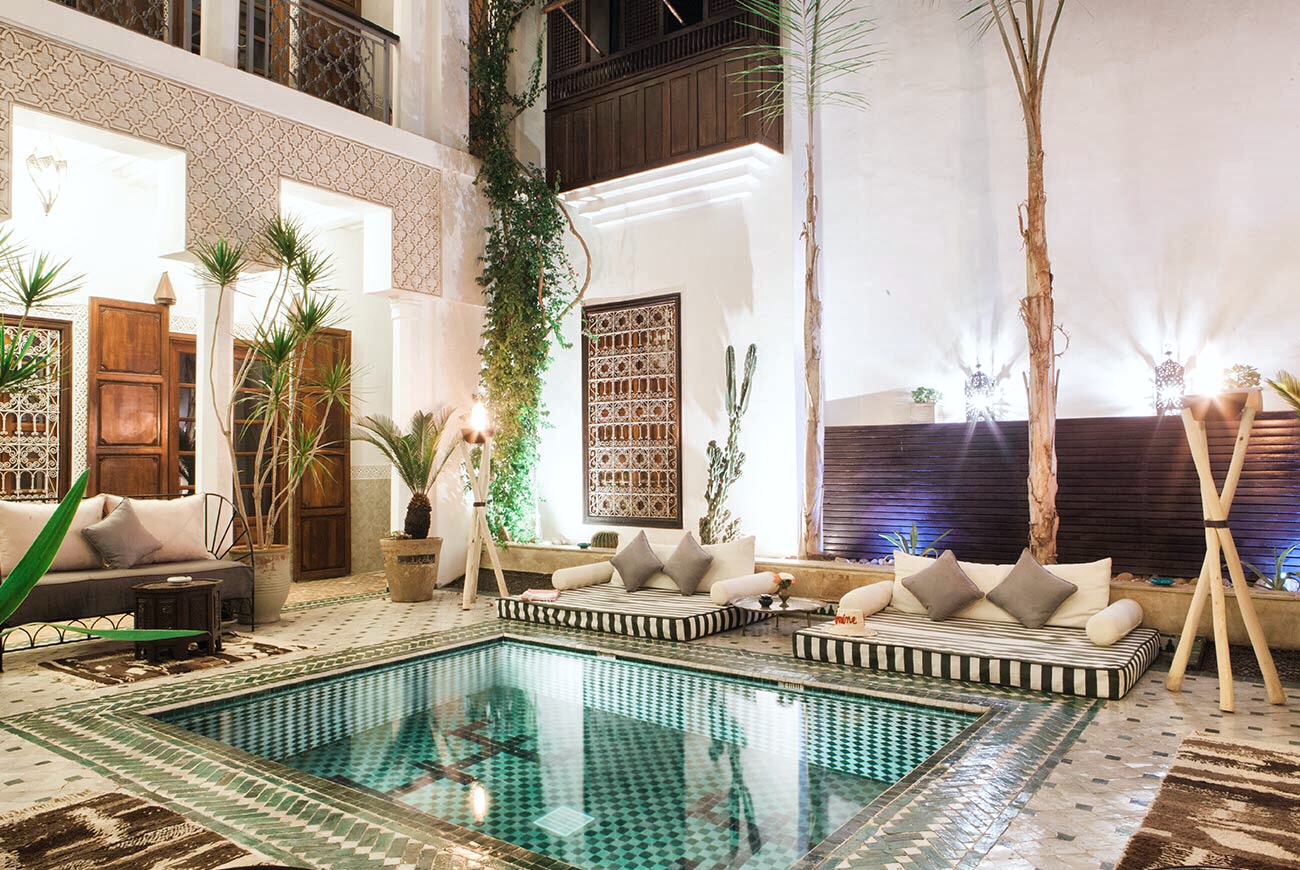 "The Stone Desert Camp"
For the last two nights of the retreat, we will escape to the silence of the nearby stone desert, Agafay. Get transported back in time to a glamping experience like no other, surrounded by the vast landscape, and unwind from your time in Marrakech
The camp is made up of spacious and comfortable tents decorated with unique pieces. Natural materials, African woven matting, Berber rugs, and atmospheric Moroccan lanterns give the impression of being on an expedition from another time.
There is no electricity, and evenings at the camp are beautifully lit by campfires and candles. While at the camp, we'll enjoy gourmet meals, yoga and meditation practice, camel rides, and even a star gazing lesson from an astrophysicist!
If you want to add to your experience, there's also the option to book extra activities. Take a 4x4 tour, go horseback riding, or pamper yourself with a massage. Detailed list available upon request.
Glamping Tents
The tents at the encampment are made of thick white cotton to keep out the desert sun, and yet, let the cool night air in. You can expect comfortable beds, luxurious linens, a Western ensuite bathroom, and a private Berber-style shower.
When you need some down time from the desert heat and activities, relax on traditional Moroccan cushions in the lounge area inside your tent, or put pen to paper at the wooden writing desk. Just outside your tent, there's another private seating area with two chairs under a stretched cotton awning that provides perfect views of the Agafay's grandeur and beyond to the snow-capped Atlas mountains.
The Food
The desert camp bakes it's own bread daily in a small traditional earthen oven. Food is cooked simply to bring out the natural flavour of fresh produce from local markets, and prepared by a private chef onsite. Each night, as evening envelops the camp in inky blackness, the dining tent is lit up with candles, inviting guests to a feast around a communal table.
*On the full desktop page, the beautiful video in the banner was created by Antoine Janssens. Go check out more of his work here.